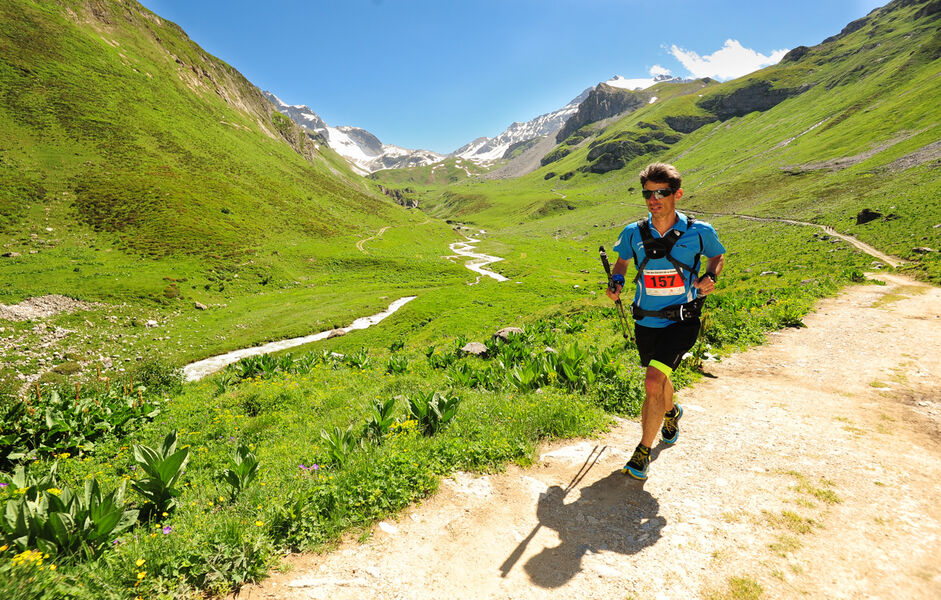 Tour des Glaciers de la Vanoise Weekend
This 73km trail race, with 3800m of vertical gain, is considered by many runners to be "The most beautifully spectacular in France." The breathtaking course through Vanoise National Park has won over many of the world's top trail runners.
The legendary TGV, (Tour des Glaciers de la Vanoise) represents so much more than a simple competition, it is a genuine event that brings trail running enthusiasts together every year for a spectacular mountain race whose beauty is only matched by the challenging terrain.
600 runners will stand at the starting line and then put one foot in front of the other on the trails that circumnavigate the Vanoise Glaciers, the largest ice cap in Western Europe.
For more information: http://trailsvanoise.fr/
The other trail runs during the weekend-long event:
Pralo Vu du Ciel (Pralo viewed from above)
The course for this race takes you to some of the most amazing spots above and around Pralognan, such as the summit of Petit Mont-Blanc Peak (2677m) and the Crêtes de Montcharvet ridgeline.
Distance: 30 km
Vertical gain: 1750m
The TAV: Tour de l'Aiguille de la Vanoise (Vanoise Spire Loop)
Another classic loop that starts in Pralognan and takes runners up and over Col de la Vanoise Pass (2520m) via the magnificently beautiful Arcelin Cirque. The descent route back to Pralognan crosses the truly unique Lac des Vaches (Cow Lake).
Distance: 15 km
Vertical gain: 1100m
Rando TGV
On this two-day trek spend the night in a mountain hut to escape, observe, smell, feel, and simply immerse yourself in Vanoise National Park's amazing mountain environment. Through the prairies, streams, summer smells, chamois, ibex, and marmots, enjoy your journey circumnavigating the legendary Vanoise Glaciers.
Throughout each day's hike, your guide will teach you all about the history and culture of the surrounding valleys, as well as reveal their many secrets. Once at the hut nestled in the high mountains, while your well-earned copious Savoyard meal tantalizes your taste buds, your guide will continue to regale you with local tales and legends.
This two-day adventure is open to anyone 20 years old and up the day of the event. It requires being in good physical condition and experience hiking steep terrain in the mountains.
This two-day trek covers 73km and 3800m vertical gain and is not timed. Professional hiking and mountain guides will take participants along the same trails as the TGV trail running race.
Start and finish in Pralognan.
Distance: 73 km
Vertical gain: 3800m D+
Races for kids
PROGRAM COMING SOON…
MULTIMEDIA